Encouragement
D1 – D3.
D2. What other groups actively promote bicycling in the community?
Chamber of Commerce
Downtown Business Association/Business District
Tourism Board
Other civic associations (e.g. Rotary, Lion's Club, etc.)
Bicycling receives a lot of community support. Please refer to the F1-F6 section of Evaluation and Planning to read about the important community stakeholders and their involvement into popularizing not only bicycling, but healthy community in general.
The Friends of Carrollton GreenBelt was recognized by the Department of Anthropology, University of West Georgia with The Karl T. Steinen Award.
The Karl T. Steinen Award for Service to Anthropology was named in honor of Dr. Steinen who dedicated himself to preparing undergraduate students for careers in anthropology. This award is presented to an outstanding member of the community in recognition for service to the UWG Department of Anthropology and to the anthropology profession by promoting student-centered research, teaching, or programmatic initiatives.
---
D3. Does your community actively promote the League of American Bicyclists' Bicycle Friendly Business (BFB) or Bicycle Friendly University (BFU) programs in your community?
The University of West Georgia is considering appying for the BFU Designation in the Fall of 2017. Upon submitting the application for BFC in Spring 2017, the Friends of Carrollton GreenBelt will work to encourage companies that already make steps towards being bicycle friendly to apply for a designation themselves.  FoCGB will also work with the City and the Carrollton Mainstreet and Carroll County Chamber of Commerce to introduce a local, bike-friendly business designation.
---
D4. Route-Finding Support
D4. What up-to-date mapping and route-finding information is available for your community?
Printed/digital bicycle network maps:
♣ Every Tuesday Night Ride Map:
♣ Carroll County Bicycle Network Map:
Printed/digital mountain bike trails map:
♣ University of West Georgia Trail Map:
Printed & digital Carrollton GreenBelt maps:
♣ Friends of Carrollton GreenBelt Map:
♣ Tanner Health Systems Map & Brochure printed for FoCGB:
♣ Perpetual Motion Bikes, Inc, Map: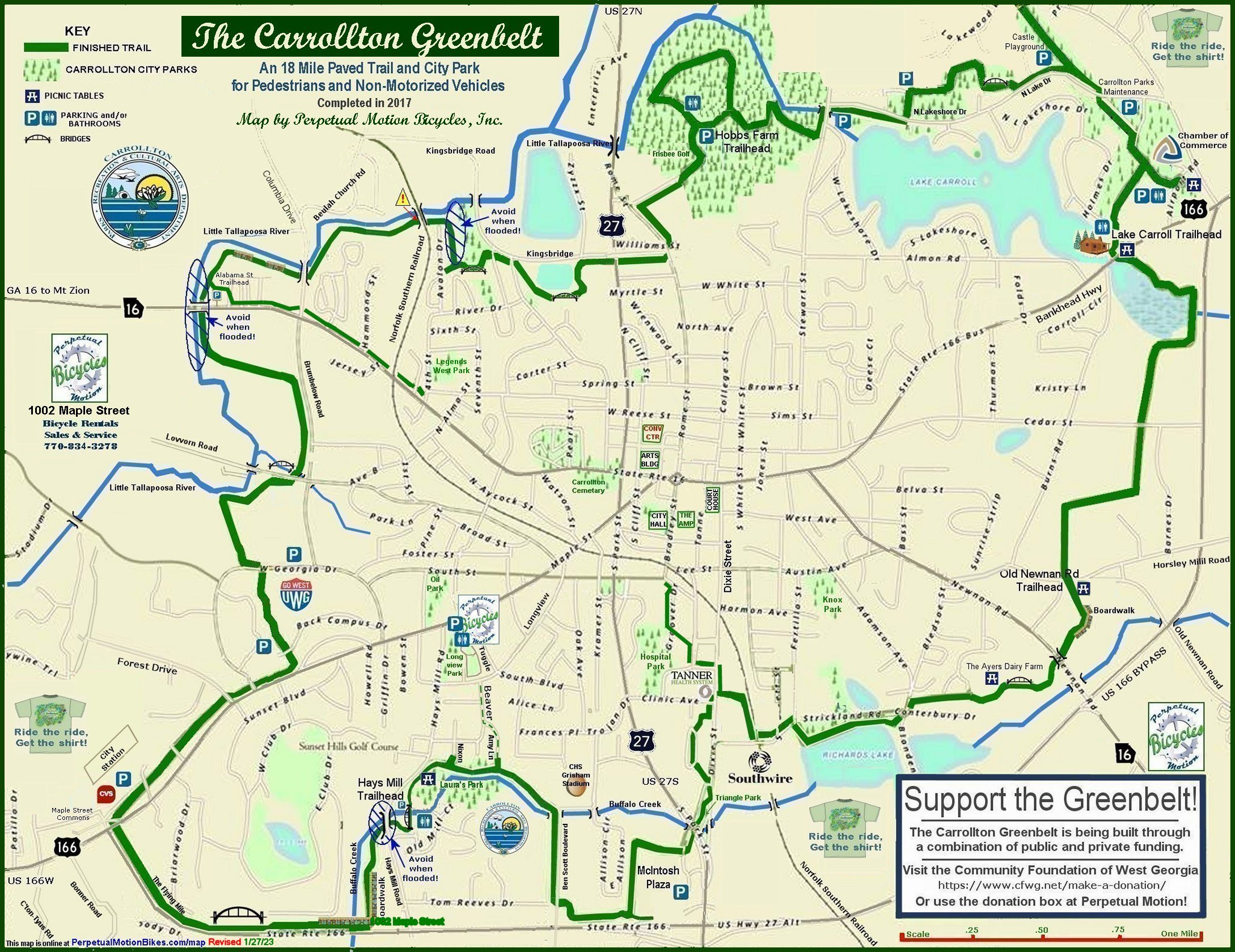 ---
D5 – D10. Bicycle Culture and Promotion
D5. How is National Bike Month/your own dedicated Bike Month promoted in your community?
M is for May as Bike Month! Official Proclamation was signed by the Mayor, Walt Hollingsworth, on February 6, 2017. Community wide education campaign and community rides are planned for 2017. Stay tuned and follow BikeCarrollton.org for more information!
From Times-Georgian:
Approximately 200 Carrollton City Schools students participated in "Walk and Roll Wednesday" as they biked and walked to school from the Carrollton GreenBelt Hay's Mill Road and Target store trailheads. The event, sponsored by the Carrollton City Schools, Tanner Health System and the Carrollton GreenBbelt, encourages students to walk or ride a bike to school to establish healthy habits and get a sense of freedom. Raffle tickets were given to each student for a chance to win two bicycles.
SRTS Brochure distributed in schools:
SRTS Flyers:
---

Bike rodeos and safety town:
Bike rodeos are held during Mayfest – a popular community festival with average attendance of more than 5,000 people. The rodeo is one of the funding sources for Shop with a Cop, an initiative that allows less fortunate children to experience the magic of Christmas by shopping with a police officer. Each of the Shop with a Cop participants also receives a bicycle.
---
D6. How is bicycling promoted in your community outside of Bike Month? Check all that apply.
BRAG – Bicycle Ride Across Georgia
More than 700 bicyclists rode into Carrollton Monday, many with interesting stories on how they happen to be riding the six-day, 60-mile-per-day BRAG trek.
Some had more to "brag" about than others as they gathered on the Carrollton City Schools campus, the stopover point for the night.
Area businesses were getting a lot of customers during the BRAG visit. Dorsey said that, hopefully, many of the visitors will see things they like about the community and return at a later date to spend more time here.
Early Monday afternoon, the bike riders were setting up their tents and campsites on the school grounds, and many were headed into town for a 4 p.m. happy hour at The Amp, Carrollton's downtown amphitheater, and then three hours of entertainment, starting at 6:30 p.m., with a variety of music.
---
Tour de Carroll – Community Bike Ride – Third Sunday in October
The event is organized by Women's Shelter and Adam Alvord of West Georgia Cycling bike shop.
Having raised $17,000 last year for the Carroll County Emergency Women's Shelter, organizers of this year's fourth annual Tour de Carroll bike ride are optimistic they will surpass that mark and help even more women and children seeking an immediate escape from domestic violence.
"We had well over a 100 (riders) last year (2015) who participated and it really was a wonderful turnout," Boyce said. "We do allow children to ride with family members who are over 18 years old and a whole family can participate for $50. We do have a lot who preregister but we get a whole lot on the day of the event as well. The majority of our riders come from Carroll, Heard, Coweta and Haralson counties. But we did have some come from Tuscaloosa, Alabama, and someone from South Carolina who was visiting but they got a bike and came out to ride with us."
Adam Alvord of West Georgia Cycling who supplied a 1963 limited edition Schwinn Speedster bicycle to be raffled off. 
Annual Safety class conducted by police @ Tour de Carroll:
---

Summer of Health Events – Tanner Health Systems:

Light up the night – Family Bike Ride – Summer  2016

2016 POP (Power of Produce) – Smoothie Ride! – Summer of Health – Tanner Health Systems:

---

Carrollton been the host of the Georgia Police and Fireman's Games for many many years. That includes both road and mountain bicycling races.
---

UWG hosted a Poker Ride to introduce the Greenbelt and the new shared lanes to campus students and faculty in October 2015.
"About 35 fraternity bicycle riders will come to Carrollton Friday as part of the cross-country bike ride "Journey of Hope," which funds programs for people with disabilities.The riders were to leave Jacksons Gap, Ala., about 85 miles away, at 6 a.m. Friday and arrive about 2 p.m. at the Carrollton High School fieldhouse, where they will spend the night, according to Matt Varnell, group spokesman.The riders will later attend a 6 p.m. dinner at the Carroll County Training Center, 200 Alton Estes Drive, Carrollton, hosted by the ARC of Carroll County."
---
Roopville Ramble  – application and info 2016:
http://www.roopvilleramble.org/bicycleride/4sunshine.htm

---

Safe Routes To School  – Walk and Roll Day – Events:
The city schools currently partner with the Safe Routes to School coalition, sponsored by Tanner Health System to provide students and parents with safety materials. They also collaborate on bike and walk to school events. During these events, the Carrollton Police Department Bike Unit instructs parents and students on safety practices and provides helmet fitting guidelines. They also provide a brochure on safety, and Tanner gives out reflector lights with LED beacons for bikes at many of their events.
On October 5, 2016, as a part of celebrating Walk&Roll to School Day, the school and city officials cut the ribbon for a buffered bike/ped path – Trojan Lane, that connects the Carrollton GreenBelt to the front of the Carrollton Elementary School.
Participants with the most logged Walk&Roll days in October 2016 entered drawing for bike, scooters, pogo sticks and accessories.
Tanner's coverage of the event – here.  More pictures on Tanner's Facebook – here.  Carrollton GreenBelt's website on SRTS.
The Walk & Roll events were introduced in 2015:
---

Shop with a Cop – annual event held by City Police Department:
A special Christmas: Kids get to shop with a cop (Times Georgian article)
Fifty-eight kids were served by the program, with nearly $12,000 raised, Potts said. The money came from several fundraisers throughout the year, as well as donations, with the primary fundraiser being the Fraternal Order of Police rodeo, held each June.
In addition to the $200 shopping trip, each child was given a bicycle and a chance to visit with Santa, after having breakfast provided by the police department.
Mountain Biking:
Farmers Market Ride:
Ride the GreenBelt:
---
D7. Are any bicycle events specifically marketed to any of the following traditionally underrepresented groups?
A boy, 7, hops on the new Huffy 20 inch bike with pegs that he picked out at the bicycle giveaway Thursday morning at Westside Full Gospel Baptist Church. The 130 bikes were provided by the Valeo Groupe. It was the ninth year that the company has donated bike through the church.
McKenna Dalby, left, vice-president of people and culture, and Brian Shapre, a founding partner of Valeo, get some of the 130 bicycles organized.
---
Southwire Company, in conjunction with Perpetual Motion Bicycles, assembled and provided more than 100 bicycles for children within Georgia Baptist Children's Homes and Family Ministries Inc. earlier this month. The organization caters to abused and neglected children by placing them in group homes." By:Arthia Nixon/Times-Georgian (Jan 26, 2016)
---
D9. Are any of the following cycling clubs/groups active in your community?
From Mr. Vern Zander:
A few of us started riding together on the Silver Comet out of Hiram in February 2003. As we grew we gave ourselves our name in 2007: Chain Gang. We like to brag that we have no meetings, no dues, but just like to ride; we do have an annual Christmas party though. Last Wednesday 14 of showed up for the ride, with three doing their birthday ride. We ride our age in miles on (or close to) our birthday . So these three rode 74 miles. Our average age likely is in the 70's. I did my 78-mile ride a couple of weeks ago. As for multi-day rides, the fartherest we traveled to do a week-long ride was to Athens, Greece, where we rode on several of the Greek Islands. Other such rides were an 800-mile ride in the Pacific Northwest and two rides in the national parks of Utah. The longest ride we did, although not officially a Chain Gang ride, was from San Diego, California to St. Augustine, Florida, a 3000-mile 40-day ride. Our club holds an obscure record for 2016: the average miles for active rider in our club is the highest in the nation, just under 6000 miles, per BikeJournal.com. We were 7th in the nation in club total miles.
Chain Gang in Utah. Photo: Vern Zander
D11. Access to Bicycle Equipment and Repair Services
Bike shops (alphabetical order)
From PMB website:
Perpetual Motion Bicycles, Inc.  is a professional yet family oriented bike shop, offering parts and accessories, repair services, new and used bikes, and bicycle rentals. Any product we carry (except new bicycles) is available thru this website upon request, even though you may not find it listed here. At our brick store, we offer professional service and support for all brands and levels of bikes and riders.
With 30 years experience, our technicians have what it takes. Overhauls, tuneups, wheelbuilding, and pro drivetrain cleaning are some of our specialties.
In 2015 an 2016 Perpetual Motion Bikes made it onto the Best Bike Shops in America list!
From WGC website:
West Georgia Cycling is the first mobile bike shop in the West Georgia area including Carrollton, Douglasvile and Newnan. We give you the convenience of having your bike or bicycles picked up and brought back to you. You don't have to haul your bike anywhere. We work on all kinds of bikes: road, mountain, cruiser, kid's bikes, 3-wheelers, you name it. We also carry a full line of new and used bikes.
We are extremely passionate about cycling and our passion is exhibited in the quality of services we provide in repairing and maintaining your bike. We are located at 415B Bradley St Carrollton GA 30117
Save
Save
Save
Save
Save
Save
Save
Save
Save
Save
Save
Save
Save
Save
Save
Save
Save